Provider Information
TPS Governance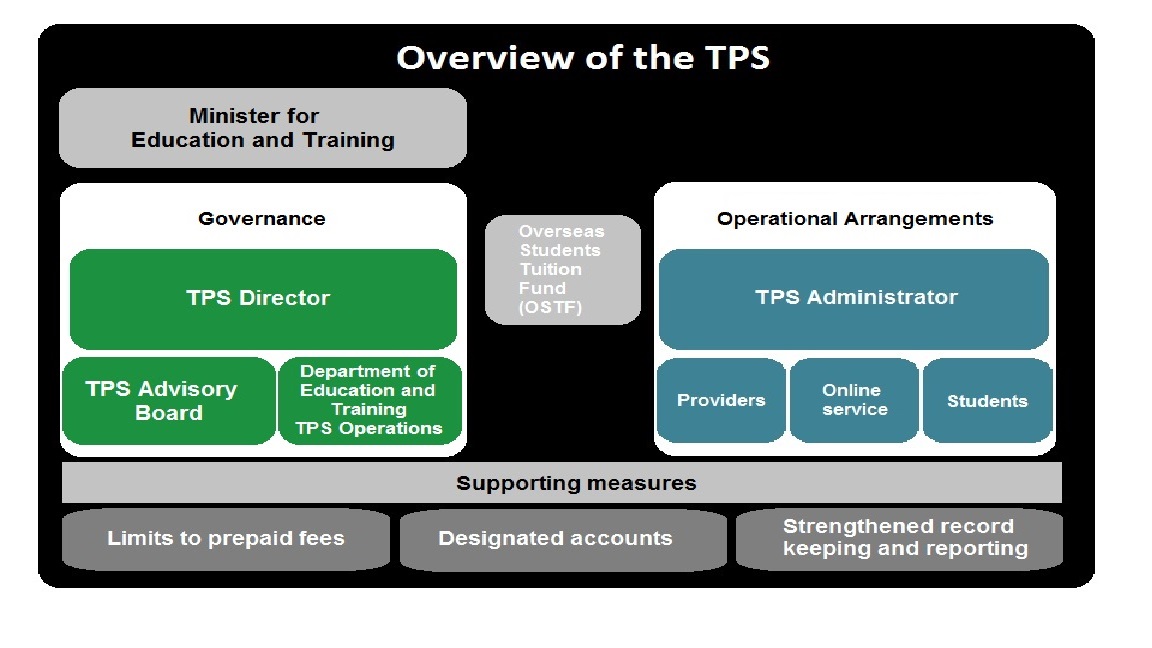 The TPS Director is appointed by the Minister and oversees the operation of the TPS. The main roles and responsibilities of the TPS Director include:
overseeing the operation of student placements, payments to providers for accepting students affected by a provider default and, where appropriate, refunds to students;
managing the operation of the Overseas Student Tuition Fund (OSTF) for administrative, placement and refund purposes, in accordance with responsibilities under the relevant education and financial accountability frameworks; and
determining the amount of the annual TPS levy.
Each year the TPS Director will set key components of the TPS levy to be paid by providers, following the advice and recommendation of the TPS Advisory Board. The Department of Education supports the TPS Director in the execution of these functions through a TPS Secretariat.
TPS Advisory Board
The TPS Advisory Board provides advice and makes recommendations to the TPS Director in relation to the TPS Levy under Subsections 9(3) and10(2) of the Education Services for Overseas Students (TPS Levies), Act 2011, and any other matters that the Board considers relevant to the preparation of its advice and recommendations to the Director. The Board comprises:
a representative from each of the following agencies:

The Department of Education and Training;
The Department of Finance and Deregulation;
The Department of Immigration and Border Protection;
The Australian Government Actuary;
The Australian Prudential Regulation Authority;

up to seven other members appointed by the Minister on the basis of qualifications or experience that the Minister considers relevant to the performance of the Board's functions.
TPS Administrator
The TPS Administrator administers and manages the TPS online facility and supports the TPS Director.
Department of Education and Training TPS Operations
The TPS Operations provides both policy and administrative support to the TPS Director, secretariat support for meetings of the TPS Advisory Board and contract management for any consultant/s engaged by the TPS Director.